I don't have many Thanksgiving decorations, but when November rolls around I put a "Thankful" banner up in the doorway between our dining room and family room. I see it when I come downstairs in the morning, when I walk in the door at the end of the day, and after the kids have gone to bed and I'm walking into the family room for a blanket, the couch, and some Mama-time. It reminds me to give thanks.
I have so many things, large and small, to be thankful and grateful for: family and friends that are always there for us, the amazing and caring teachers that my girls have in school and in their activities, and the new church community that we have found. My list even includes things like Vicks VapoRub, coffee, PaperMate Flair Pens, and my Clarisonic.
At the very tippity top of my list, though, is my husband, George, and our relationship. We have been together for 14 years, and this past October we celebrated our 10th wedding anniversary.
We are the same in so many ways, but we also perfectly complement each other. We laugh…a lot…at ourselves and at one another. We know our faults and can find humor in them. When we argue, which is infrequent, we apologize and make sure to come to some sort of resolution. We hold the same parenting philosophy. And when I am lacking confidence to do something, he builds me up and nudges me forward, and I do the same for him.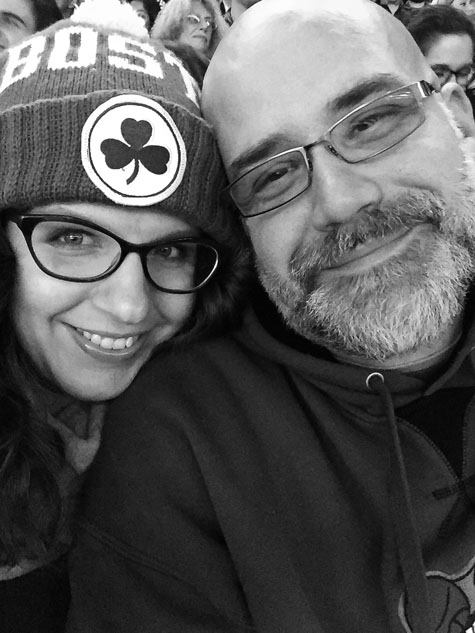 It's also the little things, though. I know that I can count on him to do things like READ THE INSTRUCTIONS for anything new that we get in the house. This is a big one, people!! I remember bringing home our first born and having to learn how to use my breast pump. I literally handed him the unopened box and said/begged, "Please just tell me how to use this." He happily obliged, and I fell more in love with him that day. I really couldn't have chosen anyone better.
I'm not big on New Year's Resolutions, but I think I might have a good one for 2017 – being thankful and expressing "thanks" more often. I might leave that banner up a little longer to help me along the way. With that said, I'm off to give my husband (and my Clarisonic) a smooch.